Hey y'all,
Last week we talked about how much we love face masks in our self care talk, so we decided to share reviews of a few we've tried. We both picked a couple ones that have and haven't worked for us. Here goes:
LUSH Fresh Face Rosy Cheeks Mask
If you've never been to Lush you don't know what you're missing. I lived 21.5 out of my 22 years in ignorance, so it is now my duty to share my knowledge. Lush has a line of "Fresh Face" masks and while I have not tried all of them, Rosy Cheeks is the clear winner. It helps to even out tone and makes your skin silky soft afterwards. Bonus: It smells spectacular (like roses, who would've guessed). -Lexie
Rating: ★★★ out of 5
---
Neutrogena Clear Pore Cleanser/Mask
Review: I feel like it's supposed to be good for oily skin, but the chemicals are too strong for me. After washing it off my face was always bright red and irritated. I also feel like it has some kind of bleaching element to it, and I'm not down for that. I have seen it get favorable reviews on other sites, but for me it just didn't work ¯\_(ツ)_/¯ -Belle
Rating:★ out of 5
---
Freeman Avocado & Oatmeal Clay Mask 
Classic. Ten out of ten. She's beauty and she's grace. This mask has never let me down. It's like that pair of granny panties you keep coming back to because they're too legit to quit. My skin is always so soft and clean after using this mask. This is the one that I always come back to because it never disappoints and is easy on the wallet! -Lexie
Rating: ★★★★★ out of 5
---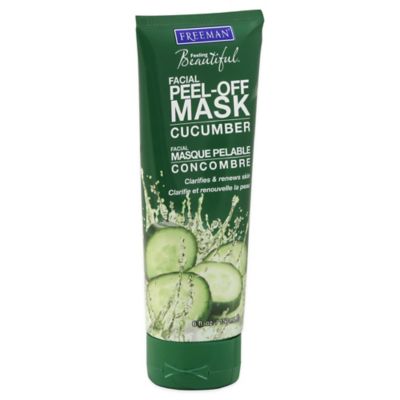 ALSO Freeman Cucumber Facial Peel-Off Mask
This one is super cheap and super effective! You can use it twice a week or so without it drying out your skin. I love peeling off the little bits after they dry, because you can see the dirt and dead skin coming off. (Also for reference, no I don't watch pimple popping videos, but I do love a good used pore strip). I usually keep this on hand and will put it on my nose pretty regularly. -Belle
Rating: ★★★★ out of 5
---
Body Prescriptions Pore Refining Mask
I bought this once on a whim at a TJ Maxx home goods, and I was NOT disappointed. I get dry skin in the winter and this helps so much! The catch is, the longer you leave it on the more it actually absorbs into your skin. There is a danger in leaving it on until it absorbs fully–which I did once and promptly got a few of those under the skin bumps around my chin and nostrils *sigh* -Belle
Rating: ★★★ out of 5
---
Aztec Secret Health Indian Healing Clay Mask
Every review I read about this mask had nothing but the highest praise, even Buzzfeed featured it! I don't normally consider my skin to be sensitive, but every time I take this mask off I feel like my skin has been burned. Whatever the Aztec's secret ingredient is doesn't agree with me. I've even tried leaving it on for less time to no avail! -Lexie
Rating: ★ out of 5
---
Clinique Pore Refining Solutions Charcoal Mask
I LOVE THIS MASK! Like I said before I have super sensitive skin, but I always have really good experiences with Clinique. (For reference, my skin is typically irritated by dyes, fragrances and anything super chemical-based). It's a little more expensive compared to a drug store mask. A bottle is around $25 I believe, but IMO the results are worth it. It's super gentle and over time I definitely noticed a difference in my acne. -Belle
Rating: ★★★★ out of 5
---
Yves Roger Purity Mask
This is like the classic sleepover mask. It goes on smooth and dries hard in a light green color, cucumbers not included. It could be more expensive depending on where you buy it, I got it online! Always leaves my face feeling super cleansed and soft, without being too harsh on my skin. I would typically use it once a month around my period to get my face under control and I always had good results.-Belle
Rating: ★★★★★ out of 5
---
Borghese Fango Active Mud for Face and Body
This mask was the first I ever tried in high school. I don't know how I came across it, but the gods must have taken one look at my pizza face and put it in my path. My skin is highly acne prone and this mask has always been able to hit the brakes on a breakout. It has active mud, which creates a tingling sensation, but I have never found it to be too harsh on my skin. It seems the price of this product has gone up in recent years, but I highly   recommend if you're looking to treat-yo-self. -Lexie
Rating: ★★★★★ out of 5
---
Japan Daiso Natural Pack Charcoal Peel Off Mask
This was one of those 3 a.m. amazon purchases that I was pleasantly surprised with! This is a peel off mask with high sticking power. You have to use caution not to let it touch your hair and eyebrows, otherwise you chance losing them. Once you have it on, you can see the locations where the oil is being extracted (dat T-zone doh) as the mask dries. I like to use it as a spot treatment as well when I feel a break out coming. -Lexie
Rating: ★★★★ out of 5
Comment and let us know if any of these worked or didn't work for you! Also don't forget to follow us on Twitter and Instagram.
Sending love and good vibes,
-B&L